Our scientific team has years of experience in their areas of expertise. Committed and competent employees who are passionate about their work is our strength and fundamental part of customer centricity. We are eager to apply our scientific knowledge to your specific research needs.
A team of experts is dedicated to each customer project to ensure successful project execution from start to finish. You will work directly with our experts who will integrate the best forms of innovation and scientific thought. We embrace interdisciplinary communication, and the relevant scientific team members will work together to ensure the best practices for our projects.
We are devoted to deliver high-quality results and address the unique requirements of each customer.
Mari Suominen, PhD
Research Director
Jenni Mäki-Jouppila, PhD
R&D Director
Jukka Morko, PhD
Research Director
Justyna Zdrojewska, PhD
Research Director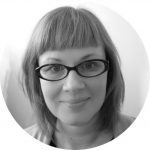 Kati Rauva, BBA
Quality Assurance Manager
Katja Fagerlund, PhD
Research Director
Jukka Vääräniemi, PhD
Senior Scientist
Mervi Ristola, PhD
Scientist